CableNet + IEC 60364 calculations
From 1988 INTELEC collected a extended knowledge with IEC 60364 regulations and introduced the integrated CableNet program on the market (1993) in cooperation with Energy company NUON. The program includes extended databases Transformers (IEC 60076), UPS (IEC 62040), Cables (IEC 60228), Busbars (IEC 60439-2), Fuses (IEC 60269), Circuit Breakers (IEC 60898 and IEC 60947-2) and the IS-CAD symbols (IEC 60617), which are maintained by INTELEC on a regular base. The application is an extended electrical engineering tool for designing and managing electrical calculations for medium and low-voltage power distribution.

The integrated program has the possibility for defining the electrical network in a fast and efficient way. With connections and collections the installation can be extended. After the input the integral calculations can be exported and advanced reports can be generated. Critical parts of the installation can be analysed, selected and efficiently changed. With the available databases the engineer can also quickly generate new alternatives. The program now has become an indispensably tool for every electrical engineer.
Integral CableNet-calculations according IEC 60364
The following integral CableNet calculations are included :
Cumulative Voltage losses
Voltage drops startup motors
Short-circuits (kA) (3-phase)
Touch voltage (1-phase short-circuit)
Cos-phi compensation (idle-current)
Analysis Selectivity
Further Specifications :
extended reviews for all data and calculations-results
analysis for the power distribution (asymmetrical- and nul-currents)
output of the installation-schemes (NEN-5152) and also DXF (CAD)
output of the short-circuit calculations (grafics)
calculation of the cable (summary of length and prices)
extended technical reports
integrated with IS-CAD (+) :
Computer Aided Design : IS-CAD (+)
TThe software also includes the IS-CAD (trial) program and the IEC 60617 library 2010, for extending and printing the generated installation-schemes. With the pro-version IS-CAD+ you can design and plot cable views, controller- and connection schemes and distributor-plans; import- and export DXF and PDF, scaling, the library manager and more ...
Schematic view in CableNet :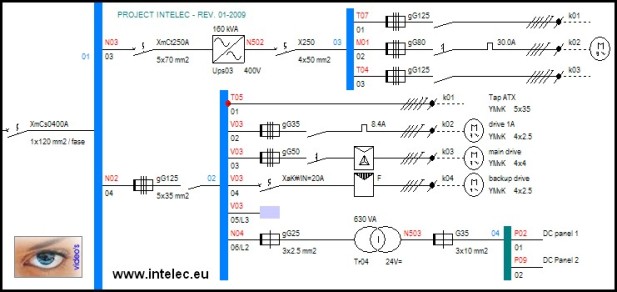 For the differences between LTE and LTE+ and IS-CAD(+) see calculation modules LTE(+)
IEC-60364
From 1988 INTELEC collected a extended knowledge with the IEC-60364 regulations and introduced the integrated CableNet program on the market (1993) in cooperation with Dutch Energy company NUON. Since that time the program grew dynamically and thousands of licenses have been sold.
General Specifications IEC-60364
grafic library for the installation-methods
grafic library for the cable- and core-configurations
input of IBth, IB, IN or Core-size
input of motor- or kVA-power (kW)
calculate with parallel cables / busbars
variable phase / line voltages / frequences
database Fuses (up to 1250 A)
database (adjustable) Circuit Breakers (up to 6300 A)
grafic short-circuit calculation
grafic library for calculations
generate installation schemes (NEN-5152)
asymmetrical nul-current calculation
tappings of cables and busbars
cosinus-phi and simultaneously
higher harmonics (3e)
earth groundwire resistance Rv
extended project-manager
collections-manager
full integration with integral CableNet
time-saving and profession reports
Databases Transformers + UPS + Protections + Cables + Busbars
The databases are maintained by INTELEC on a regular base and new products can be added on request ( see inquiry form ). At this moment the database Protections contains Fuses up to m 1250 A and Circuit Breakers up to 6300A, The database Cables up to 630 mm2 and Busbars up to 4000 mm2 Core-sizes. Standard transformers (10 kV/420V) are available up to 4000 kVA and with the input-module you can add any type of transformer or UPS.
The following manufacturers are being supported :
ABB
APC (UPS)
Betobar (busbars)
DRAKA (conductors)
EAE (busbars)
GE Power Controls
HAGER
HOLEC
Schneider Electric
MOELLER
SIBA (medium voltage)
SIEMENS
TELEMECANIQUE
TERASAKI
WEBER
Zucchini (busbars)
etc ....
The dialog for IEC-60364 LTE :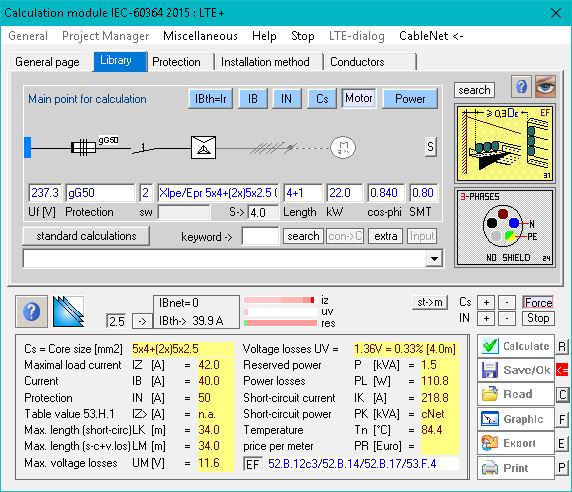 Maintenance contract
See : INTELEC Maintenance
Video instructions

Extended video instructions are included
---