IEC 60364 calculation-modules
Already more than 3000 licenses of the INTELEC Software have been sold. With the latest IEC 60364 LTE module you can calculate with Fuses up to 5000 A and Circuit breakers up to 6300 A. The database Cables (IEC 60228) and Busbars (IEC 60439-2) with copper conductors are standard available.
The LTE+ module has the following extra facilities :
cable configuration, multiple cable-railways, 3e harmonics and Aluminium conductors
reduced cores, coupled cores and extra PE-cores
dialog for 3-phase motors and voltage drops in combination with the integral program CableNet
tappings for conductors in combination with the integral program CableNet
define Specific Conductors and Specific Polynomials : Fuses and Circuit Breakers up to 6300 A
define multiple Generators and PV Solar systems (AC + DC) and the PV-wizard
execute the Arc Flash calculations (inclusive printing of the Arc Flash labels)
full BIM integration with import- and export installations (csv + INTELEC Revit plugin)
Computer Aided Design : IS-CAD (+)

The software also includes the IS-CAD (trial) program and the IEC 60617 library 2010, for extending and printing the generated installation-schemes. With the pro-version IS-CAD+ you can design and plot cable views, controller- and connection schemes and distributor-plans; import- and export DXF and PDF, scaling, the library manager and more ...

Various IEC 60364 modules

The grafics library generates the grafics for the calculation and manages the standard calculations efficiently; the IEC-60617 library can be managed with IS-CAD+.

The module characteristics and circuit breakers contains an extended database with different (adjustable) circuit breakers from various manufacturers in the range up to 6300 A. (IEC 60898 and IEC 60947-2).

With the module collections + CAD-scheme you can easily manage groups en generate PDF or DXF installation-schemes.

With the module earth- and nulcurrent-calculation the earth-groundwire-resistance and the (asymmetrical) nul-current can be calculated.

IEC 60364 LTE(+) :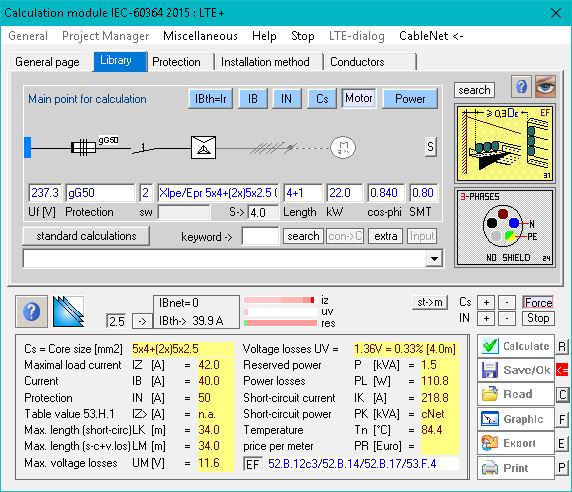 Dialog for 3-phase motors with adjustable Motor-table :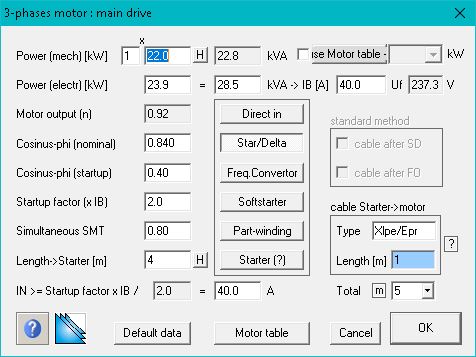 For a review of the software-modules see price information.
Video instructions

The application is delivered on CD-ROM and includes extended video instructions
---